---
1999 Electric Fun Kart Project
---
Initial Vision:
The idea for building my fun kart (not "gokart" - this name is reserved for higher-tech commercial units), was conceived after reading about electric barstool racing. I found some plans on-line and was able to use the drivetrain portion for my kart. Unfortunately, the link is now dead.
05/09/02: I found the plans online again, they are not posted by the same person, they seem to be free now.
Also, the original idea of building a vehicle from PVC pipe was not totally my idea , from my youth, I remember seeing plans to build vehicles from PVC pipe in the back of Popular Science and Popular Mechanics magazines. I have not seen these advertisements for many years. But I found a site in Australia that has PVC go cart plans, please follow the link below if you want to order them.
05/09/02: The link to Australia seems to be dead now, but I have the PDF plans here:
Recent Observations - winter 2002:
The kart is now over 2 years old, and nothing major has broken or worn out. The neighborhood kids and my nephew Brandon have rode the kart until the battery was dead. Changes to the powertrain have been added for additional strength and usability.
Deep cycle battery replaced with sealed lead acid battery designed for large UPS applications. It was purchased from Ebay.
Most of the drive components that attach to the drive axle used roll pins for fastening, many of these pins have been replaced with larger diameter, grade 8 bolts.
MOSFET motor speed controller was designed and built. Using Surplus MOSFET transistors, a pulse width modulation circuit board, I now can variably control the Honda starter motor speed. Pictures to come soon.

Since the kart is the only working model I have, all of my power experiments are conducted on this original vehicle. I have an electric scooter in progress, and I am planning a two person fun kart for later.
Specs:
Top speed - just over 30mph
Duration - +1 hour with consistent off/on operation
Wheels - 4" X 2.5"
Tires - 4.10 X 4 4ply industrial tires - 2 ply cheapies will only last an afternoon.
---
This kart was created without any welding. The frame is 1" PVC pipe reinforced with steel thin wall tubing fastened together with pop rivets.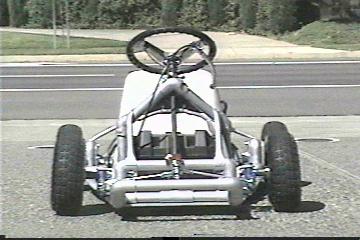 Front View
The steering components are ready made fun cart components from Azusa Engineering.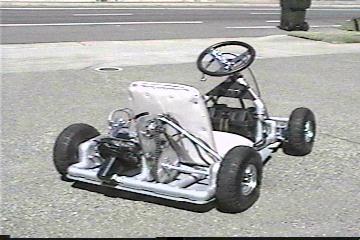 Rear View
The powertrain consists of a 5/8" solid steel, live axle driven by a modified automotive Honda starter motor energized by a deep cycle marine battery. There is no variable speed control, just on/off - stopping power comes from a single 4" band brake operated via a minibike brake lever assembly.
Click below to see more pictures of this vehicle.